Nikolskaya and Tverskaya streets and underground masterpieces: Foreign tourists share impressions of Moscow
28.06.2018 21:00 Просмотров: 183 Печать | E-mail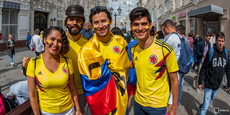 Moscow is the football capital, the main city for fans coming from all over the world to enjoy the 2018 FIFA World Cup from 14 June through 15 July. Mos.ru asked fans in the streets and on social networks about their best impressions of the city.
As all Muscovites already know, Nikolskaya Street has become the informal fan zone for tourists. Fans from all over the world have chosen it also because of its close proximity to Red Square, undoubtedly the most famous Moscow landmark.
Many fans and journalists post photos and videos from Nikolskaya Street to show themselves near Red Square.
"It's party time near Red Square tonight – football fans of all the teams and Muscovites just mingling and having fun – great atmosphere," British journalist Stuart Webb wrote on Twitter.
Tourists try to see Red Square – and the Kremlin of course – first of all.
"I have not seen all the landmarks yet, only Red Square and the Kremlin. They are very beautiful!" said Fernando, an Argentine fan.
"Red Square and Nikolskaya are the hubs for fans from all over the world in Moscow. The atmosphere is electrifying," Nigerian journalist and fan Lolade Adewuyi wrote on Twitter.
Nikolskaya Street was improved and closed to cars under the 2013 My Street programme. Since the renovation it has become one of Moscow's favourite meeting and walking places, and now the same is true for World Cup fans.
"This is what Nikolskaya Street looks like right now, a minute away from the Kremlin!" British journalist Francesca Ebel shared on her Twitter account.
Many people are wearing football uniform and carrying national flags on other central, recently improved pedestrian streets such as Kamergersky Pereulok, Stoleshnikov Pereulok and Kuznetsky Most. In addition to their impressions, fans also comment on Muscovites' friendliness.
"Moscow has many cultural and historical landmarks. You see something interesting wherever you go," said Eduardo from Mexico. "I'm impressed with the people, their kindness and friendliness. Everyone comes and offers help if they see we are lost. We don't even have to ask anyone."
Renovated Tverskaya Street also attracts tourists. "Moscow! First impressions. Tverskaya Avenue, beautiful," Cesar Jimenez, a Mexican fan, wrote on his Twitter page sharing a video taken after Mexico's victory over Germany .
The Moscow Metro is, unsurprisingly, also a landmark that inspires reviews of amazement.
"Moscow Metro stations. Stunning, marvelous. A masterpiece many metres under the ground. No comparison to any other metro on Earth," Greek fan, Vassilis Morellas, wrote on Twitter.
"Moscow transport is very comfortable; there are many options and the metro is beautiful. For example, when I arrived in Moscow, I took an Aeroexpress train first and then the metro to get to my hostel. It is clear that the metro was built a long time ago, but it is very convenient," said Adrian from Argentina.
"Difficult to do it justice with just four photos, however the Moscow Metro is something else – visually breathtaking. Spent two hours exploring a dozen stations, all on one ticket – costing 45 pence," said Michael Webster from Scotland.
"I'm always impressed by the Moscow Metro. It is very beautiful. The World Cup themed metro carriages themselves too, are awesome," noted James Nickels, a fan from England.
Screens streaming the World Cup matches installed in metro carriages are another innovation that made a pleasant impression on foreign fans.
"The benefits of the Moscow Metro," commented Belgian journalist Samindra Kunti.
The fact that all the metro signage and maps had been translated into English has made foreign fans' lives much easier.
"I hear there was no signage in English and it was difficult for people to get around before the championship. Now all the announcements are made in two languages, which is passenger-friendly," Cristian from Mexico told mos.ru journalists.
Special information resources have been introduced for the World Cup, such as the section on transport, which is available in Russian, English, French, Spanish, German, Arabic and Portuguese. Here tourists can build a route and find out about the schedule and how to pay for a ride. Another section shows the traffic changes during the World Cup and information about the metro, the Moscow Central Circle, taxis, surface transit and everything drivers need to know such as changes in routs and parking rules.
The metro Information Centre's employees at Tushinskaya Station help tourists determine the best route to hotels, stadiums, city landmarks and cafes. They also show how to book tickets for tours, theatre and cinema or order a taxi. Information is provided in Russian and English.