Ilya and Emilia Kabakov: Not Everyone Will Be Taken into the Future at Tretyakov Gallery
14.09.2018 18:00 Просмотров: 128 Печать | E-mail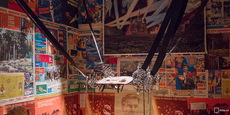 On 6 September, the exhibition "Ilya and Emilia Kabakov: Not everyone will be taken to the future" will open at the Tretyakov Gallery on Krymsky Val. The 2001 installation that gives the exhibition its name will be the centerpiece. It shows a departing train carrying artistic works that have become part of the future, and the rejected works are left to lie along the tracks.
Visitors will see over 100 works: paintings and drawings as well as albums, models and installations. The most famous installations include "The man who flew to space from his room" (1985). It shows a room in a communal flat where the character leaves through a hole in the ceiling. Another well-known installation is "The Labyrinth: My mother's album" (1990) showing life as an endless corridor. Early works by Ilya Kabakov (1960s–1970s) will have a special place.
This exhibition is Ilya and Emilia Kabakov's first separate retrospective exhibit in Russia. The Hermitage also hosted it recently. In addition, last year it was held at the Tate Modern in London.
Ilya Kabakov is a prominent figure in Moscow conceptualism who represents the later generation of Soviet artists. He created the "total installation" genre. According to Kabakov, the works in this genre take spectators to a different world, the world of illusion, and require the total transformation of the space: the floor, walls and lighting. He met his future wife Emilia in 1988. The creative couple's work includes romantics and forgotten dreamer-artists who live in the Soviet reality.
Ilya and Emilia Kabakov are considered to be among the best masters of modern art. Their works can be found in museums and private collections in Russia, Europe and the US.
The exhibition at the Tretyakov Gallery will be open throughout 13 January.
Source: mos.ru