Another City - Home
/
Poster
/ Marching Mexican musicians, Scottish bagpipers and other military bands to play at railway stations in Moscow
Marching Mexican musicians, Scottish bagpipers and other military bands to play at railway stations in Moscow
30.08.2018 19:00 Просмотров: 0 Печать | E-mail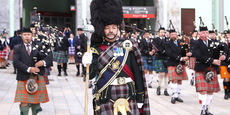 On 1 September, brass bands taking part in the Spasskaya Tower international military music festival will perform at the city's Belorussky, Kazansky, Leningradsky, Yaroslavsky and Paveletsky railway stations.
Military bands from Mexico, Scotland, Sri Lanka, Myanmar and Oman that are in Moscow for the Spasskaya Tower international military music festival will perform at five local railway stations. Free concerts will commence on 1 September at noon and will last around 60 minutes. Everyone is welcome.
The International Celtic Pipes and Drums band will play at Paveletsky Railway Station. Scottish musicians wearing national costumes will perform a popular patriotic song 'Scotland the Brave' together with a handful of international hits too.
"Military brass bands are performing at Moscow's railway stations for the fourth time. These concerts are very popular with local residents. People get a wonderful chance to go to railway stations and listen to free performances given by world-class professionals. This year's military-band concerts will coincide with 1 September, Knowledge Day, and we believe that this sort of music will boost the mood not only of young city residents but their parents as well," the press service of the directorate of Russian Railways' stations said in a statement.
The Delfines Marching Band (DMB), the largest and most popular band in Mexico, will perform at Belorussky Railway Station. Throughout its long history, the group of musicians have repeatedly won prizes and awards at both national and international contests.
The Military Band of the Royal Guard of Oman will perform at Kazansky Railway Station. The Military Band of the Myanmar Armed Forces will do the same at Leningradsky Railway Station, with the Sri Lankan Military Band playing at Yaroslavsky Railway Station.
The Spasskaya Tower international military music festival started already on 24 August on Moscow's Red Square and will continue until 2 September. An officers' ball will become its main theme this year, with leading military bands from the United Kingdom, Monaco, the Netherlands, Oman, Switzerland, Spain, Italy, Sri Lanka, Mexico and Myanmar showing off their skills.
Over 20 bands will perform on Red Square; Russian participants include the President's Band from the Moscow Kremlin Commandant's Office, the Central Military Band of the Russian Defence Ministry, the Exemplary Guards of Honour band and others.
The Spasskaya Tower festival has been taking place in Moscow since 2007.
Source: mos.ru