Another City - Home
/
Poster
/ 11 cheesemakers from Moscow and the Moscow Region to offer their products at the Mos/Food! festival
11 cheesemakers from Moscow and the Moscow Region to offer their products at the Mos/Food! festival
12.03.2018 18:00 Просмотров: 0 Печать | E-mail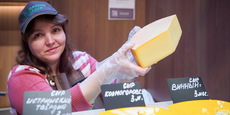 Visitors can try parmesan, burrata, mozzarella and dozens of other kinds of cheese.
On 17-18 March, Moscow residents and guests will have an opportunity to taste dozens of kinds of cheese, both classic and new, unique cheeses, during the Mos/Food! gastronomic festival.
Eleven producers of cheese and other dairy products will hail from Moscow and the Moscow Region.
Festival guests will find all their favourite kinds of cheese — from mozzarella to parmesan. In addition, the festival will offer blue cheese and cheeses flavoured with herbs, paprika, olive oil, porcini mushrooms and other ingredients. Moscow residents and guests will also be able to taste this familiar food with unusual flavours, e.g. with that of condensed milk.
Besides the cheeses, visitors can browse a wide range of other dairy products, including kefir, fermented baked milk (ryazhenka), yoghurt, buttermilk and farmer cheese.
The Mos/Food! festival will host food producers from 25 Russian regions. Overall, they will bring over 4.5 million kilogrammes of fish, deli meats, dairy products, vegetables, fruit and sweet treats.
Source: mos.ru