Another City - Home
/
Poster
/ Landscaped gardens, a new variety of rose and collector's kimonos to be presented at the Moscow Flower Show
Landscaped gardens, a new variety of rose and collector's kimonos to be presented at the Moscow Flower Show
22.06.2018 19:00 Просмотров: 0 Печать | E-mail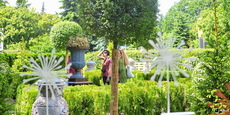 The largest event in the Russian field of landscape gardening will gather together some of the best professionals and experts from all around the world. The main venues of the festival will be Muzeon and Zaryadye parks.
The VII festival of gardens and flowers, Moscow Flower Show, will be held from 29 June to 8 July in Muzeon and Zaryadye parks. Visitors will be able to take a look at landscaped gardens designed by famous gardeners. There'll also be a children's mini-garden contest and workshops as well as a show programme.
Paul Brooks and James Alexander-Sinclair will present their landscaped gardens, Prometheus Garden and Listening Garden / Listening Theatre for the first time. The Alice in Wonderland garden by Olga Dyordi will be presented in the form of a chessboard with vertical landscaping made of roses and orchids together with lavender. Shadow Theatre by Svetlana Altukhova will give everyone an opportunity to admire shadows created by trees.
Japan will be a first-time participant at the Moscow festival. On 5 July, everyone is invited to a tea ceremony, which will be conducted by the masters of the famous Omote Sanke school – one of the three main ones in the Land of the Rising Sun. Festival visitors will also get a chance to attend workshops on sumi-e (painting on rice paper) and making temari balls. There will also be a fashion show of collector's kimonos called Kimonozuki, a bonsai exhibition and lectures on how to create a Japanese garden.
Visitors will be able to watch a performance by the Kiseki no Hana theatre studio participants, as well as to see a traditional Japanese garden of stones in Muzeon Park.
This year the Moscow Flower Show will present two children's projects –Miniature Gardens and Planet of Flowers. The latter is a traditional competition of gardens, designed based on the drawings of children. The theme of the contest is the Dream Park.
Miniature gardens is an educational landscape programme for schoolchildren who are between nine and fifteen which started in Zaryadye Park this May. Participants study climatic zones and scenery spots and learn to set up gardens in glass jars. Visitors are also invited to see their works.
Moreover on Rose Day a new variety of the garden's main flower will be presented by Alexander Ukolov, the president of the Russian Association of Professionals and Amateur Rose Growers.
On opening day, festival contestants will be greeted by the participants of the Voice: Children project. There will also be a large-scale floral procession to the accompaniment of the Brevis Brass Band. The participants of the # PRODIGY.kids project, Helikon-Opera soloist Ksenia Vyaznikova, jazz pianist Elmar Safaraliyev, and others will also perform.
The festival will be open from 10 am to 10 pm. Tickets range from 300 to 600 roubles.
Source: mos.ru