Cafe "Avocado"
27.01.2015 22:58 Просмотров: 95 Печать | E-mail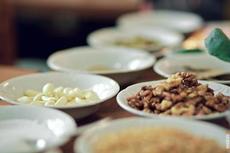 Cafe "Avocado" is a universal institution for vegetarians, vegans and raw foodists with international cuisine – the recipes for the menu are collected from all over the world.
The menu in the cafe is composed taking into account seasonal food - fruits and vegetables and the wishes of the guests. Raw food dishes which are very popular nowadays you can find on the separate pages of the menu.
More and more people prefer dishes prepared without heat processing and the tendency brings to life such cafes.