The Kutafya Tower
03.01.2015 21:35 Просмотров: 174 Печать | E-mail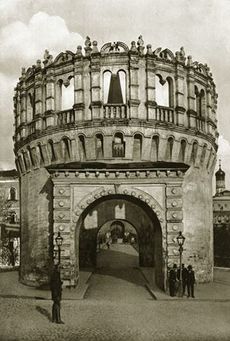 The Kutafya Tower is an outlying barbican tower of the Moscow Kremlin, built in 1516 under the leadership of the Milanese architect Aloisio da Milano, to protect the bridge over the Neglinnaya River leading to the Troitskaya Tower.
Initially, the tower was surrounded by a moat and was the only access to the city through its lift bridge. The tower had two combat tiers, the upper landing equipped with arrowslits and machicolations, which made it a formidable obstacle to the besieging of the fortress.
Marking today the main public entrance to the Kremlin, the Kutafya tower was modified several times through the centuries:
in the 16th and 17th centuries, a system of

dikes

was built to raise the water level of the Neglinnaya river and create a moat that surrounded the tower from all sides, making its

drawbridge

the only entry point from the city;

In 1668 a causeway leading through the tower to the Troitskaya Bridge was built;

a delicate ornamental crown in the

Muscovite baroque

style was built in 1685;

the divider between the two tiers was destroyed in 1780;

in 1867, a through-passage to the Manezhnaya Street was built as well as the arched apertures on the sides and a guard house on the south side;

the guard house was dismantled during the restoration works of carried out in 1974-77.
The Kutafya Tower is currently 13.5 m high; it used to be 18 m when the lower part of the tower was not covered.
Source: Wikipedia