Fair of Handicrafts on December 17 and 18
16.12.2011 19:42 Просмотров: 532 Печать | E-mail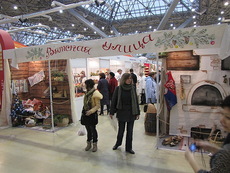 The central exhibition complex "Expocenter" hosts an interesting fair of handicrafts, which represent an integral part of Russian culture. On December 17 and 18, you will see many interesting handmade things at the fair, such as gzhel crockery, Vologda and Yelets lace, Bogorod and Belomor woodcarving, Kubachi jewellery, Zhostovo painting on metal trays, etc. Many art works were brought for the exhibit from remote corners of Russia. Also, the program of the fair includes some performances of folk groups.
Address: "Expocenter", exhibition hall "Forum". 14, Krasnopresnenskaya Embankment, Vystavochnaya metro station.
Working hours:
December 17 - from 10:00 untill 19:00
December 18 - from 10:00 untill 16:00
The last day of the exhibit: December 18.
Author of the article and photos: kate_goria