Impressive views from «The House on Running»
05.03.2012 19:15 Просмотров: 421 Печать | E-mail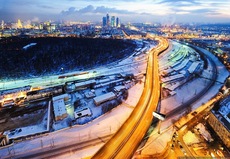 The housing estate "The House on Running" is a complex of two towers, connected with a stylobate and a shopping mall. The dwelling part of the estate is impressive in its engineering and architectural design. It is a monolithic structure together with foam concrete blocks, granite decoration and vitrage glazing. Such design is quite logical as "The House on Running" is one of the objects of the huge building company "Don-stroy", which is the leader on the business-class housing market in Russia.
I will show you photos taken from the roof of the first tower. It's height is 135 meters.
Address: 12/1, Khoroshevskoe Highway.
The nearest metro station: "Begovaya".
Author of the article and photos: George Lanchevsky
http://brock-msc.livejournal.com/25156.html - other photos