Bride Parade in the Sokolniki park on September 30
27.09.2012 18:01 Просмотров: 578 Печать | E-mail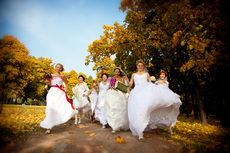 On September 30, you can attend a very interesting event, something that you don't see everyday – a bride parade! The event will take place in Sokolniki park on the day of Saint Sophia had her three daughters: Faith, Love and Hope. It will be a holiday of beauty, love, femininity and healthy life-style, a non-smoking and alcohol-free area. At the parade you will see a great number of women, who have recently got married and saved their wedding dresses.
The purpose of the event is to support family values, demonstrate all the beauty and tenderness of a bride, and make marriage more popular in the society.
Nowadays, a civil marriage is a very frequent kind of partnership between a man and a woman. In such cases, women have no protection of the law - neither as a wife, nor as a mother of their children. Only traditional kind of a family has a real value in our society. It is hard to find something more beautiful than a bride in a white dress on the wedding ceremony with her future husband.
It is no coincidence that the Bride Parade will take place in the Sokolniki Park. Annualy, the park hosts numerous wedding ceremonies and thousands of photo sessions of newly married couples. The administrators of the park suppose that is is hard to find a better place for the Bride Parade in Moscow.
Address: 1/1, Sokolnicheskiy Val.
The parade will start at 12.00 until 13.00 on September 30.
The park is open from 08:00 until 23:00, entrance is free!
Contact numbers: +7 (499) 268-54-55; +7 (916) 353–19–79.
The official website: www.park.sokolniki.com