Moscow Design Week 2012
10.10.2012 21:59 Просмотров: 733 Печать | E-mail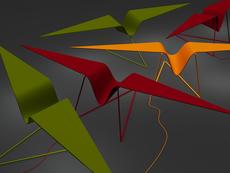 Until October 14 you can attend the third greatest Russian design fair "Moscow Design Week" at the Central House of Artist, one of the largest exhibition spaces in Russia. This remarkable for Moscow and the whole design world event passes at the international level with the participation of world- famous designers. Moscow Design Week is yearly attended by hundreds of thousands of people, both professionals - designers, architects, buyers, students – and VIP, celebrities and Moscow bohemia. Moscow Design Week has already become as global and significant event as other Design Weeks in Milan, Paris, London, Tokyo and other cities.
The purpose of the Moscow Design Week is to create a design platform in Russia and to develop cultural, economic and professional design climate, to make Moscow a capital of design, both on national and international level
This year one of the highlighhts is the project of the charming french designer OraIto, who will be the author of Altagamma Café interior concept, situated in the new center of contemporary design - Savvinskaya 23.
The legendary trendsetter Giulio Cappellini will continue to reveal the core of "Made in Italy" concept, which has already seems to become philosophical. During Moscow Design Week 2012 he will become the author of same-named exposition, which will consist of the most attractive and iconic works of his design.
Italian artist and designer Alessandro Gedda, very modern and well-known all over the world by his comprehensive artworks, will make an exposition of his art objects specially for Moscow Design Week. Just One Piece is a project which bases on the idea of using seven rare types of wood to create some "common" objects that are to become "objets d'art". The other project by Alessandro Gedda named «Yabloko» is a tribute to Steve Jobs, whose name has become a symbol of genius, progress and extraordinariness. The artist will create for Moscow Design Week 50 unique art-objects, which will be situated in the most popular and prestigious places in the center of Moscow. The entire city is also planned to be involved into a flash mob, encouraging people to hunt art-apples by Alessandro Gedda.
The architectural studio SPEECH presents the sensational installation "The eye of an architect", the authors express concern for the architectural heritage.
Design Library is a completely new part of Moscow Design Week. It's a cozy reading lounge space, providing exclusive foreign and Russian editions, catalogs and albums by leading media and publishing houses. As part of the educational initiatives Moscow Design Week will offer to visitors series of exclusive lectures and workshops by world stars, united in the project People of Design.