Student of the Railway University
27.11.2013 01:15 Просмотров: 246 Печать | E-mail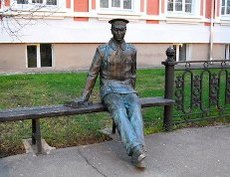 In the alley in front of the 1st building of Moscow State University of Railways there is a rather unusual monument to a student of Imperial Moscow Engineering School of Communications Office as he looked in 1898. This very year the institute changed its location and moved from its first building in Tverskaya Street into the specially built edifice in Bakhmetyevskaya (now Obraztsova) Street.
The monument was installed in 2005 in honor of the 110th student enrollment at the university.
No doubt, this is a very diligent student: his book and pince-nez lie next to him and his countenance is very concentrated.
Of course, with the advent of the monument there appeared new superstitions or good signs among students. In order to get an excellent mark in an examination students should jump over the stretched legs of the bronze figure, clean his boots with a handkerchief and put a few coins on his book.
Address: Obraztsova Street 9, b.9
Metro station: Marina Roscha
Author of the report: Ksenia Skrobova.