Reading girl
14.01.2014 21:29 Просмотров: 204 Печать | E-mail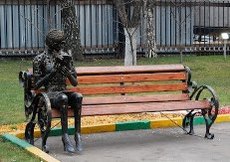 Not far from Avtozavodskaya Metro Station in the park adjacent to the building of the prefecture of the SAD Moscow there is a lonely bench with a girl sitting on it. The touching figure in large glasses and in a lacy blouse is entirely engrossed in reading. Judging by the cover, she reads a book about love.
Address: Avtozavodskaya Street, 10
Metro: Avtozavodskaya Station
Author of the report:Ksenia Skrobova.