Benches of sciences
22.01.2014 00:52 Просмотров: 200 Печать | E-mail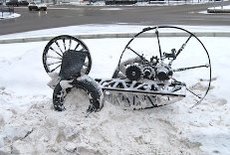 By the Metro station Turgenevskaya, at the very beginning of Sretensky Boulevard, just opposite the monument to Academician Vladimir Shukhov there are two bronze benches. The name of this unusual monument is "The benches of sciences". Two of them look like cracked logs with hammers and other carpentry tolls lying on them. The third one is the construction with wheels and gears.
Vladimir Shukhov was a famous soviet engineer, architect, inventor and scientist. His name is inseparably linked with his famous projects – the domes of such objects as the State Department Store GUM and the Central Universal Store, the Central Post Office and Kievsky Railway Station and of course with the crown of his creations - the famous Shabolovskaya (Shukhov) broadcasting tower. Once in the past the tower became a symbol of the Soviet Broadcasting and was the highest construction in the city at the time. (148.3 m)
The choice of the place for the monument is not accidental. Workshops of the famous architect and inventor were located not far from the place.
Address: Turgenevskaya Square / Sretensky Boulevard
Metro Station: Turgenevskaya
Author of the report:Ksenia Skrobova.