The State Biology Museum named after K.A. Timiryazev
21.02.2014 22:36 Просмотров: 341 Печать | E-mail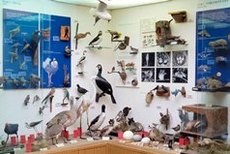 The State Biology Museum named after K.A. Timiryazev is a natural science museum, founded in 1922. The museum funds contain exhibits from different collections. Here side by side with plants and animals you will find photos, graffiti, paintings, animalistic sculptures, rare books on science and a lot of other interesting things.
Special interesting programs are prepared for children: biological quests, practical exercises with microscopes and various practical experiments.
Author of the report: Irina Tkachuk.