Pet Shop in Old Arbat Street
05.03.2014 22:37 Просмотров: 376 Печать | E-mail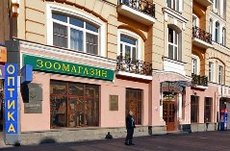 This pet shop in Old Arbat Street is the oldest one and no doubt – one of the biggest in Russia. The first mentions of pet trading in the building are dated by the beginning of the twentieth century. In the shop you will find a great variety of specialized goods and products for animals and of course a lot of pets whom you can choose in this little zoo. There are puppies of different breeds, parrots, guinea pigs, rabbits, cats and many, many other little touching creatures which will make your heart leap. In the basement of the shop there is an interesting section dedicated to horses.
By the way you can find the online version of the shop in the Internet.
Author of the report: Irina Tkachuk.