Giant light ball on Manezhnaya Square
05.11.2014 18:57 Просмотров: 233 Печать | E-mail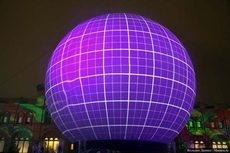 Our capital is being decorated before the New Year. It is planned that the city will be adorned with illumination by December 15.
This year in the center of Moscow you will be able to see three key art objects: a giant light ball and fountains on Manezhnaya Square, the 18-meter stele "My Moscow" and giant glowing chandeliers on Theater Square.
In the center of the city will be installed giant snowmen, illuminated trees and Christmas retro cars.