Tram parade on Chistoprudny Boulevard to celebrate tram's 116th birthday
23.03.2015 23:46 Просмотров: 175 Печать | E-mail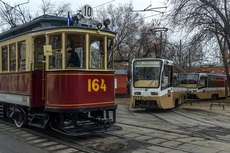 On the 11th of April a parade marking the 116th anniversary of the Moscow tram will be held on Chistoprudny Boulevard and feature unique exhibits from the museum of Mosgortrans, the main operator of the surface public transport in Moscow, as well as modern equipment.
Seventeen tramcars of various epochs have been submitted for participation, including a horse tram dating back to 1880, an F tram dating back to 1908, a KM tramcar dating back to the 1930s, Czechoslovak Tatra trams, which were used in the Soviet Union for almost 30 years, and the new-generation Pesa and Alstrom tramcars.
Muscovites will have the chance to tour the interior of the trams and take photographs in front of rare exhibits. Public transport employees wearing costumes dating back to various epochs, as well as retro-transport museum staffers, will work in each car and tell visitors about the parade and exhibits.