Iron Angel
01.01.1970 06:00 Просмотров: 1019 Печать | E-mail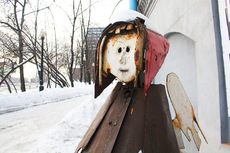 At the entrance to Andrei Sakharov Museum and Public Center, there is an interesting sculpture - an angel in a red kerchief. Some people call it a miracle-angel, others - Dashenka (a common female name in Russia). The author of this informal sculpture is a famous Moscow sculptor Leonid Berlin. Every day ten thousands of Moscow inhabitants can see his sculptures at the metro stations "Rimskaya", "Krasnogvardeyskaya", "Orekhovo" and "Bitzevskiy Park". His monument to Vladimir Vysotskiy (a famous Soviet-Russian singer, songwriter, poet, and actor) takes place at the Museum of Scuplture under the open sky at Krymskaya Embankment. His "Circus" is in front of the Animal Theatre. Also, his works are a part of the collection at the State Russian Museum and Tretiyakovskaya Gallery. Berlin was the first sculptor in Russia who began to make scupltures from iron.
This angel looks rather terrifying for me: crooked rusty hands and legs, holes instead of the eyes - a nightmare character :-)
And what do you think about it?
Address: 105120 Moscow, 57 Zemlyanoy Val Street.

Working hours of the museum:

Hall of the permanent exposition:
Tuesday to Sunday: 11.00 – 19.00
Monday is a day off.
Excursion guide works on Wednesday, Friday and Saturday. Excursions are free of charge.

Exhibit hall:
Wednesday to Sunday: 11.00 – 19.00
Monday and Tuesday are days off.
Entrance is free of charge.
Author of the article and photos: prevedva