The sculptural group "Make Way for Ducklings"
09.01.2013 19:57 Просмотров: 1510 Печать | E-mail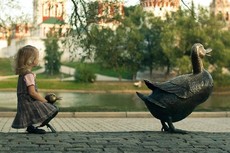 The sculptural group "Make Way for Ducklings" in Moscow is a duplicate of the sculpture, which is located in Boston, USA. In 1991, Barbara Bush gave this sculpture to Raisa Gorbacheva and the work is still displayed in the park not far from the Novodevichy Convent. This sculpture is a gift to the children of the Soviet Union from the children of the United States in the spirit of love and friendship. The idea was taken after the famous American fairy tale "Make Way for Ducklings" written by Robert McCloskey. Mother-duck is called Mrs. Mallard and her eight ducklings - Jack, Kack, Lack, Mack, Nack, Ouack, Pack, and Quack.
In 2000 a few figures of the group were stolen. After that the new replicas of the bronze birds were sent from the USA...
The author of the sculpture is Nancy Schön.