Zurab Tseriteli Museum
03.06.2011 19:15 Просмотров: 1081 Печать | E-mail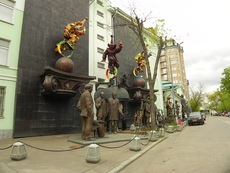 Zurab Tseriteli Museum is full of unusual monuments and sculptures created by a famous Georgian-Russian artist, sculptor and architect Zurab Tseriteli. His 94 meter high statue of Peter the Great in Moscow is the eighth tallest statue in the world. And his sculpture, entitled 'Good Defeats Evil' is on the grounds of the UN building in New York City. There are three floors in the museum with Tseriteli's mini-sculptures (the huge ones are exhibited in the courtyard) and pictures. Among numerous different sculptures in the courtyard, you will find animals, statesmen, clowns, books, soldiers, dancers, famous people, religious figures, etc. You can spent much time walking there. In this post it's only a small part of what I've manage to see.
Entrance fee: 150 rubles.
Photographing: 150 rubles. The excursion was free of charge.
Address: 13, Bolshaya Gruzinskaya Street, Krasnopresnenskaya or Barrikadnaya Metro Stations.

Author of the article and photos: miladyad