Gorky House Museum
03.06.2011 21:19 Просмотров: 1468 Печать | E-mail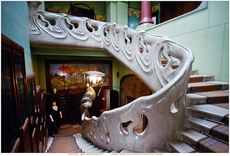 Gorky House Museum is the most popular example of the art nouveau architecture in Moscow. It was built by F. Shekhtel for a millionaire S. Ryabushinskiy in 1902, that is why it is also known as the Ryabushinsky Mansion. Shekhtel's design is unusual in its wave forms and contains many interesting elements: the famous "melting" staircase, floral mosaics and stucco decorations, fanciful snails and butterflies, a chandelier in the form of a jellyfish, vibrant hues, door handles in the form of a seahorse. The mosaics were produced by St. Petersburg firm of V. Frolov according to Shekhtel's sketches . From 1931 till the end of his life (1936), the house was the residence of the great Russian writer Maxim Gorky and his family. The museum was founded in 1965. It tells us a lot about about the history of the family.
The mansion keeps its own sectrets - the Old Believers' domestic church, located in the attic in the northwest part of the building. It is not visible in the street. Its walls and cupola are covered with a unique abstract painting in the style of an ancient church. In order to get to the church, you need to go upstairs on the second floor and pass a narrow gallery.
Address:
6/2, Malaya Nikitskaya Street.
Author of the article and photos: shelphur