House-Museum of M. Y. Lermontov
13.10.2014 16:32 Просмотров: 211 Печать | E-mail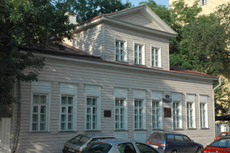 The House-Museum of M. Y. Lermontov is the very house where he and his grandmother E. A. Arsenyeva lived from 1829 to 1832 before his leaving for Petersburg. This private residence is the only house saved in Moscow where Lermontov lived.
In a small living room the coziest and warm in the house, poet`s relatives, neighbors and friends from the boarding house and university often met. On the secretaire are the books which Lermontov and his friends were deeply read in "The Song of the Bell" by Friedrich Schiller and "Brothers robbers" by A. S. Pushkin.
Next to these books there is a magazine "Ateney" where in 1830 Lermontov resolved to publish his poem for the first time, having signed by one Latin letter "L".
The main treasure of the big living room was the family portraits painted by the serf artist. In Lermontov`s study room you can see the bookcases with the books on history, philosophy and the best publications of that time. The engraving with the Caucasus view neighbors with spiritual "Madonna and Child" Raphael which reminded the poet his early died mother.
Address:M. Molchanovka Str. 2