Multimedia Art Museum
15.12.2014 18:02 Просмотров: 198 Печать | E-mail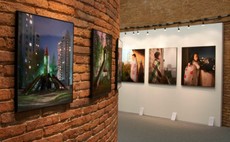 The Multimedia Art Museum in Moscow is a Russian state museum dedicated to the presentation and development of actual art related to new multimedia technologies. The museum was opened in October 2010 on the grounds of the Moscow House of Photography
In 1996 the Moscow House of Photography was established. It was the first Russian state art institution focused on the art of photography. In 2001 it was transformed in the Multimedia Complex of Actual Arts. The Complex includes the Moscow House of Photography devoted to photography, The Alexander Rodchenko School of Photography and Multimedia opened in 2006 and named after Russian classic of photography Alexander Rodchenko and Multimedia Art Museum, Moscow (MAMM) intended to acquaint Russian audience with contemporary art and multimedia technologies.
2005 the museum building on Ostozhenka street, 16 went under construction but the museum kept carrying on its exhibition and educational activities. In 2010 the Complex has returned to its renovated building numbering approximately 9,000 square metres (97,000 sq ft) of space
Entrance ticket: 50-400 r., for children under 7 - free.
Address: Ostozhenka St., 16, Metro: Kropotkinskaya
Opening hours: Mon - Sun: 12:00 - 21:00
Telephones: +7 495 637-11-00, +7 495 637-11-55
Website: http://mamm-mdf.ru
Мы в: ВКонтакте, Facebook, Twitter
icket: 50-400 r., for children under 7 - free.
Address: Ostozhenka St., 16, Metro: Kropotkinskaya
Opening hours: Mon - Sun: 12:00 - 21:00
Telephones: +7 495 637-11-00, +7 495 637-11-55
Website: http://mamm-mdf.ru
Мы в: ВКонтакте, Facebook, Twitter
http://www.youtube.com/watch?v=NDh68Uq70Yg