Moscow Planetarium
07.11.2014 15:45 Просмотров: 180 Печать | E-mail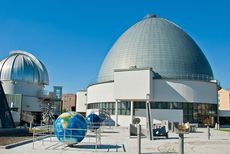 Space fanatics prepare to be wowed - the long and expensive renovation of this historic planetarium has yielded stunning results. At the interactive museum children and adults can learn about space, telescopes, satellites, gravity and other miracles of science by getting involved in hands-on exhibits that are very well explained in many languages and are simultaneously fun and insightful.
There's also a more classical museum filled with all kinds of cosmic artifacts and technology used in space exploration. Once you've tired yourself out with all that learning head into the huge star hall for the big show.
Themes for the cosmic journey include black holes, cosmic collisions, Saturn's rings and the sun. There's also a 4-D theatre showing other exciting films and blockbusters, an observatory and a garden featuring modern examples of ancient stargazing devices.
Address: Sadovaya-Kudrinskaya Street 5, b. 1
Open : 10:00 - 21:00, Sat, Sun 10:00 - 22:00. Closed Tue.
Phone: +7 495 221-76-90
Website: http://www.planetarium-moscow.ru
Email: info@planetarium-moscow.ru