Silver Pinery in four seasons of the year
06.04.2011 13:32 Просмотров: 1025 Печать | E-mail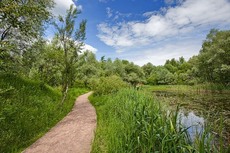 "Silver Pinery" (Serebryany Bor) is an oasis of pristine nature on a small island surrounded by the Moscow River in the west of the city. It is called so, most probably, because of the effect that you can observe here at dawn in summer: a silver glitter of dewdrops on pine tree needles. It's a special and well-organized protected natural area with many summerhouses, wooden foot bridges, paths and even an observation tower. In the warm period of the year, you can get acquainted with the indigenous inhabitants of this place: owls, hawks, otter and other animals. There are many types of fish and swimming birds in the river channels. In winter the park is not uninhabited either. Many flocks of birds gather around the birdfeeders, whole families of squirrels also come to get some food. Besides, if you are lucky, you will see cautious woodpeckers.
The flora of the park is wonderful at any time of the year, because evergreen coniferous plants are the main part of the greenery. The scent of coniferous trees, especially after rain, makes you forget about the crazy tempo of life in a few kilometers in the city. You can rest completely not going too far from the city.
But, of course, autumn is the most colorful season: motley spots of leaves softly lighted by the still warm sun, beautiful reflections of pine trees in the water...
Automobilists can easily find "Silver Pinery": go forward all the way from the center of the city to Zvenigorodskoe highway, then, at the crossing with Narodnogo Opolcheniya Street, turn to the highway-doubler of prospectus of Marshal Zhukov and you will get to the park. You can have problems with parking at the weekends. In this case, you can leave your car in a free space at the beginning of Karamyshevskiy Prospectus. It will take 200 metres to reach the park from the parking place, but you'll have an opportunity to enjoy beautiful views of the river from Horoshevsky bridge.
Coordinates of the parking space: 55.778347, 37.4501663
Also, you can get to the center of the island by public transport: trolleybus №21 from "Polejaevskaya" metro station.

Author of the article and photos: misha_grizli