Chenonceau Boutique Hotel
24.11.2014 22:28 Просмотров: 80 Печать | E-mail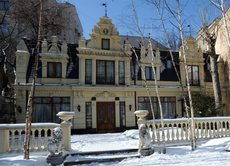 Choose the Chenonceau Boutique Hotel for a romantic getaway or weekend break in Russia's capital. This Moscow boutique hotel offers luxurious accommodations in the northwest corner of the city, between Tverskaya Street (Tverskaya ulitsa) and the Patriarshiye Ponds, or Patriarch's Ponds.
The Hotel Chenonceau is an elegant venue popular for formal occasions and special events, such as weddings and graduation celebrations. It is designed to reflect a classic British style, down to the open porch where you can enjoy stunning views in the summertime. Gourmet meals and sumptuous buffets are prepared by the Chenonceau restaurant and served in the formal dining room. The hotel is categorized as a mini hotel where business people can rent rooms by the hour in order to rest in the middle of a long working day. Complimentary wireless Internet access is available.
Located in the northwest of the Moscow city center, the Chenonceau Boutique Hotel is just inside the Garden Ring (Sadovoye Koltso), also known as the "B" Ring, the circular avenue that wraps around the city. Nearby are the Bulgakov Museum, the Moscow Academic Theatre of Satire, the State Central Museum of Contemporary Russian History, the Mossovet Theater, Tchaikovsky Concert Hall, and the Moscow Museum of Modern Art. The Bolshoi Theatre is approx. 1.7 miles (3 kilometers) to the southwest of the hotel, with the Kremlin farther to the south. The Chenonceau Boutique Hotel is within walking distance of the Mayakovskaya station on the Moscow Metro system, providing public transport all over the city.
Address: Trekhpruny Lane, 15
Phone number:  +7 499 215-65-25