Syani Stone Mines
12.10.2011 11:09 Просмотров: 467 Печать | E-mail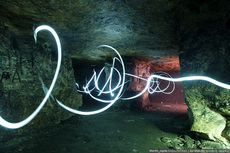 Syani or Syanskie stone mines is a Moscow artificial cave system, where limestone was excavated for the city building. But nobody knows the exact date the development work began. The total length of the cave system is about 18850 meters, which makes Syani the largest stone mine in the Moscow region and one of the largest stone mines in the whole country. Moreover, this number is not exact – some passages and manholes are choked and are still being explored. Freezelight (light painting) looks very impressive in such a place.
You can get there:
by bus 439 from the metro station "Domodedovskaya", which runs every hour and a half;
by electric train from the Paveletsky railway station, metro station "Nagatinskaya" or "Biriulevo-passajirskaya" to the station "Leninskaya".

Author of the article and photos:martin_sqare