Apple orchards
16.05.2012 22:05 Просмотров: 479 Печать | E-mail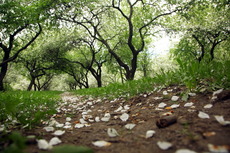 There are two beautiful places in Moscow where you can admire apple trees in bloom every spring: an apple orchad in Konkovo region and a park at Kutuzovsky prospect. This week is the time of apple trees blossoming, so you have several days to go there and enjoy it!
1) The apple orchad in Konkovo region:
Address: Akademik Artsimovich Street, close to the metro stations "Belyaevo" and "Konkovo".
Author of the photos: zeju
2) The apple orchad at Kutuzovsky prospect:
Address: 40a, Kutuzovsky prospect, between the metro stations "Park Pobedy" and "Slavyanskiy Bulvar".
Author of the photos: lena-bablo