The first Festival of street theatre and Carnival culture
09.08.2012 21:09 Просмотров: 583 Печать | E-mail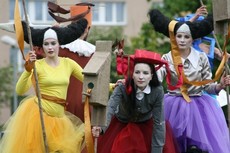 The first Festival of street theatre and Carnival culture, called "One Day in the Park", will take place on August 10, 11 and 12 at three different Moscow parks. For three days the parks will be a place of performances by the best Russian and foreign artists. All days of the festival will not be similar to each other. "One Day in the Park" is not just a theatrical festival. It is a space where adults and children can just fool and enjoy atmosphere full of creative absurdity!
The programme of the festival includes perfomances by European and Russian bands, such as "Cantiere Ikrea", "Malabar", "Teatro Pavana", "Maracatu", "Black Square", "Theatre Tol Belgem", "Licedei", "Mr. Pejo's wandering dolls", "Fire People", and many others.
"One Day in the Park" will open on August 10, at 3 p.m., in the Bauman Garden. The festival will start with a procession of characters from the pages of works by Daniil Kharms and Lewis Caroll: smiling trees, flying fairies, dancing jugglers speaking unfamiliar languages...
On Saturday, August 11, the amazing creative procession of the festival will move to the Kuzminki Park. You will see many new characters and perfomances. A part of the theatrical activities will take place on the surface of the pond.
On the last day of the festival, August 12, all the activities will take place in the Gorky Park. Once again you will have an opportunity to see the colourful procession of Russian and foreign theatres - more than 100 artists! The programme will finish by a spectacle "Angel Heart" by the Belgian theatre TOL, who took part in the opening ceremony of the Olympic Games in London.
All the parks will be decorated by unusual art installations, constructions, masks, wings, balls, paper streamers, confetti and fireworks.
When and where:
in the Bauman Garden on Friday, August 10
in the Kuzminki Park on Saturday, August 11
in the Gorky Park on Sunday, August 12
The festival will start at 15:00
Address: 15, Staraya Basmannaya Street.
The event is absolutely free!