The Second Moscow International Festival "The Circle of Light"
27.09.2012 17:29 Просмотров: 899 Печать | E-mail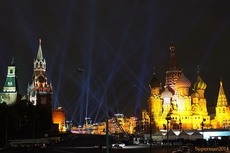 From the 28th September till the 2nd of October 2012, a bright and colourful event takes place in the magnificent capital of Russia – The Second Moscow International Festival "The Circle of Light". Organized by the Department of Mass Media and Advertisement; the festival of light is a unique large-scale event within the limits of 2D and 3D fields wherein light-designers and professionals use architectural spaces of the city as facades for multimedia and light installations.
The general theme for the festival this year is the "Energy of Life ". Each program, each presentation at the "Circle of light " will be filled by an unanticipated creative atmosphere, directed toward a united association of people coming together from all over the world.
The extensive program of this year's festival will begin to operate immediately on the following five platforms: the Red Square, the Gorky Central Park of Culture and Leisure, the Central House of the Artist, and the Central Exhibition Hall "Manezh". All the platforms will be easily accessible, working in looped runs from 19:00 till 23:00 daily. You will be able to approach and experience the art of light in all its glory, including the Festival Opening Ceremony at the Red Square on the 28th of September.
The program of the festival includes a combination of unique multimedia and musical programs, light installations, audio-visual show, interactive shows, laser shows, along with an International "Art Vision" Video Mapping Competition and a creative "Laboratory of Light" competition. More details on these elaborate proceedings can be found in the Festival "Event Diary".
The festival will show bright works of well-known Russian artists, giving way to new names among young experts in the field of light design, as well as acquainting its audiences with the Worldwide Festivals of Light. This is all possible thanks to the unique technical equipment of the festival, operating strictly by a combined collection of projection equipment made of thousands of components.
The festival "The Circle of Light is a large-scale project; created, first of all, for the residents of the city to show its usual shape in a new light.
Join us in the circle of light to have a truly extraordinary visual experience!
Where: the Red Square, the Gorky Central Park of Culture and Leisure, the Central House of the Artist, the Central Exhibition Hall "Manezh" and the new Krymskaya Enbankment.
When: from September 28 until October 2, from 19:00 till 23:00 daily.
The program of the festival: www.lightfest.ru/ru/program_fest
The source of the information: www.lightfest.ru
The author of the photos: superman2014