The photo exhibition «Russia through a Train Window» at Zeppelin gallery
30.10.2012 16:17 Просмотров: 1118 Печать | E-mail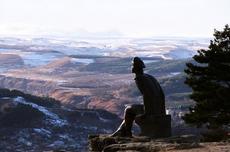 From November 7 until December 15, Zeppelin gallery in Moscow hosts a free exhibition "Travels. Greatest Hits. 2006-2009" by a famous Russian photographer - Anton Lange. The exposition presents the best photos of the project "Russia through a Train Window", selected by the photographer specially for that exhibit to demonstrate all the dimensions of the project.
Anton Lange is one of the most talented modern photographers in Russia. Being a man of broad world outlook and interests, he creates photos in the most different styles and genres. He is the one able to find beauty in simple things. Anton is an author of an amazing project "Russia through a Train Window". For this project, between 2006-2009, he travelled a lot around Russia and visited its most expressive and unique regions: Siberia, the Far East, Sakhalin Island, the Caucasus, the Urals, the North-West region, Lake Baikal, the Volga River and other places. 150 000 kilometers of the whole expeditionary route... The pictures of the biggest and unique photo project in Russia show us almost the whole country - from its south point to the Polar circle.
The project was founded in 2006. Its purpose is to demonstrate Russia of the 21st century thourgh the Art of Photography. At Lange's pictures you can see different aspects of life of the society, learn about some geographical peculiarities of the country and cultural historical heritage of the Russians.
Anton Lange:
"The railways in Russia have been such an integral part of our lives for so long that they have become not just the most affordable means of transport, but also a way to gain knowledge of and insight into the life of the country. They are an adventure in which the inquisitive traveller makes a lot of discoveries for himself, finds the unusual in daily events, journeys not just from point A to B, but into nature itself and experiences the country's geography, history, ethnography, culture ..."
Wotking hours: from 11:00 until 22:00, November 7 - December 15.
Address: Zeppelin Gallery - 31, Novinskiy Boulevard, metro stations "Krasnopresnenskaya" or "Barrikadnaya".
The phone number of the gallery: (495) 797 20 77, 989 87 68.
Entrance is free of charge!
The group on Facebook: www.facebook.com/ZeppelinGallery