Gogol House Museum
22.11.2013 23:52 Просмотров: 271 Печать | E-mail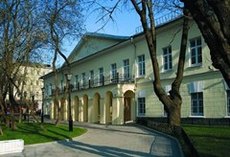 In this house the writer spent the last years of his life. Here Gogol worked on the second volume of "Dead Souls" and read "The Inspector General" to his friends. The structure of the Museum also includes the Gogol's research library. Another peculiarity of the museum is its humanitarian entity. It is stipulated by the scientific activities of the Memorial Center and its close cooperation with humanitarian universities located in the historical center of Moscow.
In the reading room one can find books on philosophy, literature, psychology, art, religion and, of course, fiction books. And no doubt the special attention is paid to the editions of Gogol's works and materials connected with the life and works of the writer.
Author of the report: Irina Tkachuk.