Walking zone in Crimean Embankmen
07.03.2014 14:41 Просмотров: 265 Печать | E-mail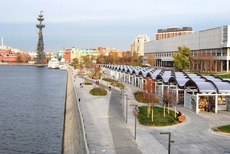 You must have had a chance to notice the changes that have been taken place in Crimean Embankment. The local authorities have decided to transform it into a beautiful pedestrian zone connecting the "Red October", Art "Muzeon" Park and Gorky Park. The main concept of the park is based around the core elements of the composition – the waves. You can find them everywhere: in bench forms, in walking and cycling paths and even in the forms of the art pavilions. The bulk of the work is ready but completely it will be finished by this spring.
Here soon will be open a new original café. It will be one of the most unusual cafes in Moscow – on its roof there will be a viewing platform and a unique ramp for cyclists.
Where: Crimean Embankment
Метро Stations: Gorky Park, Oktyabrskaya
Author of the report: Irina Tkachuk.