Moscow Music and Drama Gipsy Theatre Romen
17.03.2014 22:08 Просмотров: 675 Печать | E-mail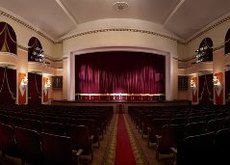 Moscow Music and Drama Gipsy Theatre Romen is one of the most famous and oldest of the existing Gipsy Theatres in the World. This is a key object of Gypsy culture in Russia and since its opening the center attracts the most outstanding persons of Gypsy Art in Russia. It was founded in 1931.
Since 1940 the shows in the theatre were translated in Russian. Currently the director of the theater is a famous gypsy actor Nicholas Slichenko.
Author of the report: Irina Tkachuck.