Ornitary in Sokolniki.
09.04.2014 22:22 Просмотров: 359 Печать | E-mail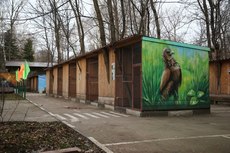 In "Sokolniki" Park there is an Ornithological veterinary rehabilitation center. The ornitary is not a classical zoo, it is a veterinary and rehabilitation center for birds, including those which are registered in the Red Book. The main purpose of the ornithological center is to prevent the death of thousands wild birds in Russia. The collection contains more than 20 rare birds which can't live in wild nature any more. Many of them are housed in the open vallieres.
The ornitary is located at the intersection Mitkovsky Passage and the 1st Luchevoy Avenue.
Ticket for adults - 300 rubles, for children from age 7 - 150 rubles, for kids under 7 – free
Author of the report and the photos: Irina Tkachuk.