Have a rest in Mayakovskaya Square
01.07.2014 00:15 Просмотров: 140 Печать | E-mail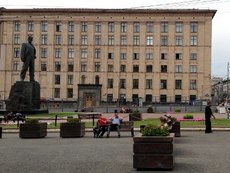 Not far from Metro station Mayakovskaya at the intersection of 1st Tverskaya-Yamskaya and Tryumfalnaya Streets at the monument to Vladimir Mayakovsky there is a square with benches,flower- beds and free wi-fi.
It may seem a bit strange to choose this place for your rest, but on the other hand those who like walking around the city it's a good place to have a break in the endless run of our life.
Metro Station: Mayakovskaya.
Author of the report: Ksenia Skrobova.