Improvement of Bolshaya Ordynka Street completed
04.09.2015 17:40 Просмотров: 44 Печать | E-mail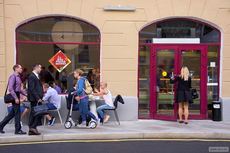 Sergei Sobyanin: Colleagues, exactly two years ago, we opened the reconstructed Pyatnitskaya Street, which today is in good condition.
n general, Pyatnitskaya Street gave rise to a huge pedestrian space in the Zamoskvorechye District. In addition to it, six pedestrian by-streets were renovated. And today, we are opening Bolshaya Ordynka — perhaps, the most symbolic street in Zamoskvorechye. From this street leading out of Moscow began the way to the Great Horde, from which the street gets its name. This was one of the main streets in Zamoskvorechye. Unfortunately, in recent years, it has fallen into decay, and very few remember its historical significance and appearance. It took us just a few months to bring it all in order — to reconstruct buildings, including historic ones that are located here, to install high-quality lighting and make a comfortable pedestrian space. One the one hand, we narrowed traffic lanes, but on the other hand, thanks to proper organisation of traffic, the street's capacity increased by almost 40 percent. So, there will be no discrimination: there will be enough space for cyclists, drivers and pedestrians. In general,we created an attractive and comfortable public space.
Next year, we will continue to renovate Moscow, including Zamoskvorechye, so these are not one-time projects. These are projects that involve the implementation of an ambitious programme for the improvement of Moscow streets. I would like to thank citizens for their patience and I hope they like the project. At least, what I'm hearing indicates that people are pleased with it. This is the most important thing. Thank you!
http://www.youtube.com/watch?v=ZqoA7S4lZ5k