Abandoned estate - The House of R. German
24.08.2012 19:52 Просмотров: 1027 Печать | E-mail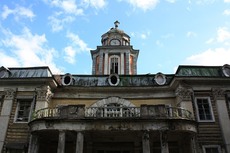 In the region of Moscow, in the town Dolgoprudniy, you can find a beautiful historical place - the abandoned House of R. German, which is stil in rather good condition. The estate was built in 1912 on the project by the Russian architect I. Rylskiy. The estate is not only beautiful outside, but its interiors also attract much attention: an amazing staircase, balconies, wooden doors, fireplaces...
In Soviet times the estate was used as a sanatorium for consumptives. But once, when the ceiling fell down in the hall on the first floor of the building in 1991, the administration of the sanatorium stopped to assign any means to keep it in a good condition. Some of the walls and parts of the ceilings has rotted through and fell down as well.
It is very sad to see the estate in such a bad condition...
Address: the estate is located not far from the building 167c3 at Dmitrovskoe Highway.
In order to get inside the estate, you need to pay the security guard 100 rubles.
Author of the article and photos: alexdoomer2009