Palace of Czar Alexey Mikhailovich in Kolomenskoe
31.05.2011 21:54 Просмотров: 1651 Печать | E-mail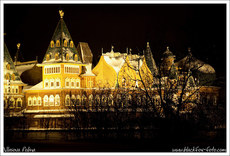 This beautiful wooden palace was built in the second half of the 17th century in the village Kolomenskoe, which is one of the most enjoyable places in the surroundings of Moscow. The palace has a rather complicated structure of separate wooden rooms connected with corridors. It was demolished in 1768, but not long time ago the Moscow government completed its full-scale reconstruction and restored its unique architectural view.
There is a wonderful smell of wood near the palace!
Besides, you can taste Russian dishes at a small and nice cafe in an antique style inside the palace. Prices are acceptable.
You will have a chance to enjoy interesting excursions to the palace, viewing rooms of the tsarevitch, tsarina and tsar. Excursion services are available from 9 a.m. to 18 p.m. every day.
The palace is located between Kolomenskaya and Kashyrskaya metro stations on the Andropov Prospect. There is a parking space there, so you can get there by car.
Additional information about the palace
Address: 27, the Second Dyakovo Gorodishe Sttreet, Moscow.

Author of the article and photos: afinyanka