Kutuzovsky Avenue
26.09.2014 17:00 Просмотров: 355 Печать | E-mail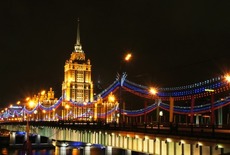 Kutuzovsky Prospekt is a major radial avenue in Moscow, Russia, named after Mikhail Illarionovich Kutuzov, leader of Russian field army during the French invasion of Russia.
The prospekt continues a westward path of Vozdvizhenka Street and New Arbat Street from Novoarbatsky Bridge over Moskva River to the junction with Rublyovskoye Shosse; past this point, the route changes its name to Mozhaiskoye Shosse.
Present-day Kutuzovsky Prospekt emerged in 1957–1963, incorporating part of old Mozhaiskoye Schosse (buildings no. 19 to 45) that was rebuilt in grand stalinist style in late 1930s on site of former Dorogomilovo Cemetery, and the lowrise neighborhoods of Kutuzovskaya Sloboda Street and Novodorogomilovskaya Street that were razed in 1950s. Initially, Kutuzovsky prospekt extended east to the Garden Ring, however, in 1963, in the beginning of New Arbat redevelopment, the segment between Garden Ring and Novoarbatsky Bridge was assigned to New Arbat (then known as Prospekt Kalinina).
Sourse: http://en.wikipedia.org/wiki/Kutuzovsky_Avenue
Author of the photos: Natalia Yasnaya (fotki.yandex.ru/users/nyasnaya)