Alexey Kozlov club
27.10.2014 23:25 Просмотров: 248 Печать | E-mail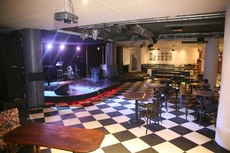 Among lots of places in Moscow that deliver good jazz sounds this is probably the only one that combines cozy comfortable atmosphere (that doesn't make you feel invisible if you are not wearing white fur and smoking cigars) with jazz music of a great taste.
The best part of this place is that they have concerts every day and they are mainly free (don't forget to check that on the website, as well as starting time of the concerts).
The owner is a musician himself so he digs music and selects the very best of jazz, blues, fusion e.t.c. for his club's stage. He performs sometimes with different bands himself and these are the only concerts you have to pay for in this club.
Address: Olimpiyskiy Prospect, 16 b.2
Metro Station: Prospect Mira
Open hours:Mon-Sun 20:00–00:00
Website:   kozlovclub.ru
http://www.youtube.com/watch?v=NNx4YzNJuig