The Artificial city «Moscow in the 19th century»
10.01.2012 23:20 Просмотров: 1281 Печать | E-mail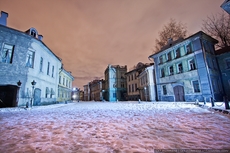 I've recently been to the famous film studio "Mosfilm". On its territory you can see an amazing artificial city, called "Moscow in the 19th century" and built for one of the films. It is an amazing place. You will feel like in a completely different world. All the houses are empty inside and are supported only by framework structures. They are made from wooden boards and covered by gypsum. The city was created for the film by Karen Shakhnazarov "The Rider Named Death". Usually all settings are destroyed after shooting a movie, but other directors liked the city so much that they decided to save it. Many famous Russian films were created there. The place changed into Berlin, Paris, Tbilisi and even Copenhagen. Something was rebuilt, street signs changed, but after shootings the city always restored its former appearance.
At first, we found ourselves in a rather dull part of the city, where we could see only empty houses. But we went farther and came to be in a village with many interesting buildings and a special atmosphere. There was a church, an estate, many houses and even a model of a destroyed building!
That small city on the territory of "Mosfilm" keeps lots of mysteries in its streets and corners.
Address: 1, Mosfilmovskaya Street. Metro station "Kievskaya". From the station you will need to get to the place by bus 119 or 205, trolleybus 7, 17 or 34 or minibus 11m, 20m, 394m, 525m, 329m, 496m or 205k until the bus stop called "Mosfilm".
You can visit the city on an excursion to the film studio "Mosfilm" - order an excursion.
Author of the article and photos: cat_morphine