Public Museum of Moscow Metro
03.06.2011 12:45 Просмотров: 1342 Печать | E-mail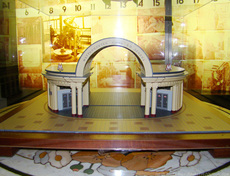 The museum of Moscow Metro is a quiet place, without crowds of people, not only because it doesn't work on the weekends, but also because the majority of people pass it up without paying any attention to a small entrance door on the right side of the exit. The museum takes place in the south vestibule (the one that is closer to "Lujniki") of Sportivnaya Station. The exposition is on the third floor, the cloakroom is on the second floor, but it is open only for excursionists. It is worth to mention that excursion services, as well as the entrance, is free of charge. The museum strictly follows metrostyle. Banisters on the staircase are covered with an escalator ribbon. Most of the stands are designed like carriage windows. You can enjoy calm atmosphere in the exibition halls with subdued light.
1. We'll begin our journey in the museum with an old turnstile, which still works with help of five-kopeck coins. It is written on the sign: "Make ready five-kopeck coins" on the first photo bellow. And you can see the turnstile on the second one. You should throw a five-kopeck coin into the small chink and then you will see a sign "Go" that will appear on the upper display.
Address: 36, Khamovnichesky Val, Moscow.

Working hours:
Monday: 10.00 – 16.30
Tuesday to Thirsday: 9.00 – 16.30
Friday: 9.00 – 15.00
Additional information about the museum on Moscow Metro official site.
Author of the article and photos: olgalexandrovna