Vvedenskoye Cemetery
05.12.2011 20:58 Просмотров: 899 Печать | E-mail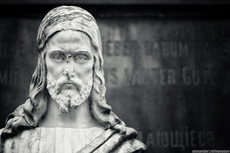 Vvedenskoye Cemetery or German Cemetery is one of the oldest cemeteries in Moscow. It was founded during the Black Death epidemic in 1771 and was initially intended for as a burial place for Lutherans and Catholics. Like the necropolis of Père Lachaise in Paris, Vvedenskoye Cemetery is decorated with many old sculptures, and the architecture of chapels and gravestones will make you forget that you are in Russia. Lots of famous people are burried in Vvedenskoye cemetery: more than 770 scientits, about 300 artists, composers and bandmasters, 95 literary men, more than 80 painters, sculptors and architects, almost 200 honoured doctors, teachers, constructors, honoured workers of culture, masters of sports, many ecclesiastics, 54 heroes of the Soviet Union, 27 heroes of the Socialist Labour, 90 revolutionaries and Bolsheviks. Also, there is a mass grave of German soldiers, who died in Russian hospitals during the first world war.
Despite the fact that Vvedenskoe cemetery is an object of cultural heritage of Russia, it is open for visitors on a schedule. In contrast to Lychakovskoe cemetery in Lvov (Ukraine) where visitors can make a tour of the burial places by electric cars, the atmosphere of Vvedensoe cemetery is more quiet.
Address: Nalichnaya Street, 1c1a.
The nearest metro stations: Electrozavodskaya, Semenovskaya, Baumanskaya.
Author of the article and photos: flyerunderfire