Sculpture Park of the Central House of Artists
28.05.2011 20:13 Просмотров: 956 Печать | E-mail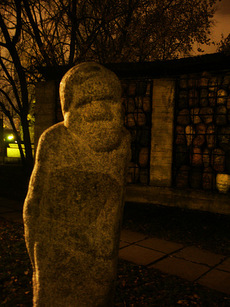 The Sculpture Park of the Central House of Artists is a popular place for walks in Moscow, but in daylight it is not so mystical and terrifying as late at night in lights of street lamps. Long shadows are sprawling from the stone, iron and wooden sculptures, and they can scare you out of your senses if you come there alone... If you like to tickle your nerves, you can entertain yourself by looking into the empty eye sockets of the sculptures. Besides, you will see a wall with stone heads behind the grating and barblock is a symbol of the horrors of Stalinism. Stone heads with sorrowful and worn-out faces horrifies you at first glance. Also, there is a huge globe in the park, which expresses piece and friendship among all nations.
The park works every day from 9 a.m. until 21 p.m.
Address: 10 Krymsky Val.

Author of the article and photos: prevedva