Benches for kisses
07.10.2014 22:46 Просмотров: 214 Печать | E-mail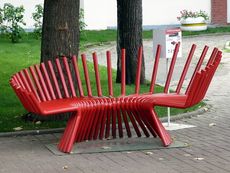 In Hermitage Garden, as well as in some other Moscow parks there appeared benches for kisses created by young designers in the framework of the competition aimed at the improving of the city environment.
The competition was organized by Martini Art Club — a community of young people whose aim is to discover new names in art, architecture and design.
Address: Karetny Ryad Street, 3
Metro Stations: "Pushkinskaya", "Chekhovskaya", "Tverskaya"