Timiryazevskiy park
14.05.2012 23:21 Просмотров: 2403 Печать | E-mail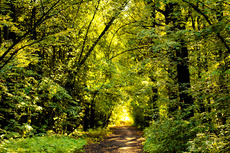 Timiryazevskiy park is a dense forest and a perfect place to walk. You can enter the park from different points between Dmitrovskoe and Leningradskoe highways. It is full of mossy stubs, nice snags, twisted trees, different herbs, birds, mice, insects and squirrels. You can slowly walk there, deep in your thoughts, and completely lose a feeling of the big city. That huge park is an ideal place for nature study, its wild and rich world. You can find a bee-farming laboratory there as well as edaphology and flower farming, a forest house, a plant-breeding station and different vegetable warmhouses. All those places were founded by Petrovsky Agricultural and Forest Academy (1865).
Avifauna of the park is very rich. Here you can see wild ducks in the ponds, roody shelducks, goldeneyes, morwennols, hawks, owls, kestrels and many other birds, such as cuckoos, chaffinches, yellowhammers, redbreasts, nightingales, etc.
The park is rather abandoned, but those people, who enjoy wild forests, will like that place very much.
Address: 8 March or Vuteticha Streets.
The nearest metro station: "Timiryazevskaya", "Dinamo".
The source of the photos and information: www.greenword.ru