Views from the roof of "The House in Mosfilmovskaya"
09.01.2012 20:30 Просмотров: 958 Печать | E-mail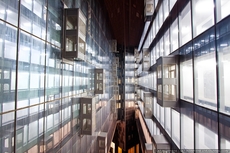 The following photos were taken on the roof of the skyscraper called "The House in Mosfilmovskaya" ("Dom na Mosfilmovskoy"), which is the 8th highest building in Russia and the 19th one in Europe. The views from the roof are breathtaking. You can see lots of famous Moscow buildings and places, such as Moscow State University, Park Pobedy, the housing estate "Vorobyevy Gory" and others.
Address: 2, Pyrieva Street.
Author of the article and photos: cat-morphine