The sunrise on the skyscraper "Mercury City Tower"
20.07.2012 12:49 Просмотров: 1384 Печать | E-mail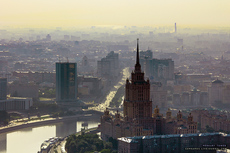 For a long time the tower "Moscow" was the highest one in the Moscow International Business Center ("Moscow City"), but the scyscraper "Mercury City Tower" has recently reached its full height of 370 meters and became the tallest building in Europe. Some time ago I was lucky to observe the sunrise on the roof of the tower - the most beautiful views of Moscow.
Once my friend and I were late for the last subway train and decided to meet the sunrise on the top of one of the "Moscow City" towers. We didn't have any official permission for that, but we took a risk and reached the roof illegally. It was 5 a.m. and the sun was only appearing. There were many construction workers inside the building, who began their working day.
The top floor of the scyscraper was full of workers. We were surprised to understand that nobody from them spoke Russian. They are from Turkey, as we found out later. Some of them worked in very hazardous conditions - on the brink of precipice without safety equipment.
"Mercury City Tower" is a skyscraper currently under construction in the Moscow International Business Center of Moscow - Moskva City, Plot 14.
Then we hurried to leave the building and go to the underground parking.
Author of the article and photos: samnamos